NEW SINGLE - WORKING IN A RESTAURANT by Vince Conrad
In February 2019, Vince Conrad Productions (VCP) will be releasing two new singles, "Working In A Restaurant" and "Comatose."  Both songs were written by Vince Conrad in the early 1980's but never released for sale to the general public.  These songs have been re-recorded by Vince Conrad in 2018 and will be available for the first time exclusively on the VCP website.  Both songs are firmly rooted in the old-school punk rock style that continues to emerge from VCP.  Watch for the new Vince Conrad downloads available only on the VCP website in early 2019!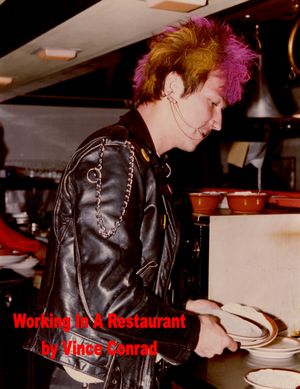 VINCE CONRAD - TRANSITION - 2nd Solo EP
It has been a busy year so far for Vince Conrad Productions (VCP). VCP is nearing completion of two additional musical projects, both distinctly different. Vince Conrad will soon be releasing his second solo EP, which contains five brand new songs within a contemporary punk rock genre, but which still contain early influences from the New York and Los Angeles punk music scenes. The songs are a blend of driving guitar embellished with unusual vocal melodies and abrasive lyrics.  One song, "My Side" features Terry Thomas of the Pittsburgh punk band, the Ultimatics playing lead guitar, which is unquestionably one of the best songs on the record. Tony Matteucci, drummer extraordinaire, of the Detroit punk rock band "The Dogs" and formerly drummer for the Pagans, is also lending his rhythmic talents to Vince and plays drums on the new record.  Vince Conrad wrote and produced all songs on the new release. The new Vince Conrad EP, simply entitled, "Transition" is scheduled for release on December 2nd, and will be available for sale exclusively through the VCP website.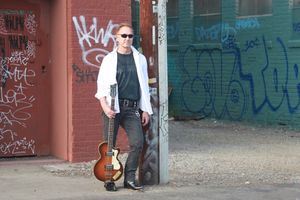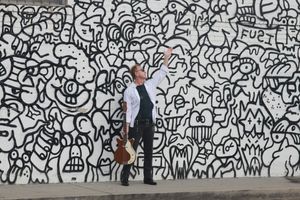 THE EBAE BONGOS - CITY STREETS
In 2017 Vince Conrad Productions joined forces with the Ebae Bongos.  The Ebae Bongos is a brand new project that captures a diversity of musicianship and pop music styles in the underlying six compositions on the debut EP entitled, "City Streets."   All songs on the new EP were written by Vince Conrad and the Ebae Bongos.  Vince appears, courtesy of VCP and plays guitar and bass on the new EP.  City Streets, the debut EP from the Ebae Bongos is scheduled for release in November 2018.